Three-legged dog always mourns for his friends by laying by their gravesites.
|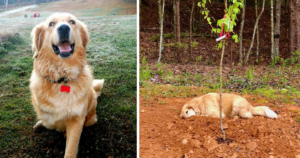 It's amazing how emotionally intelligent dogs can be. They're able to form real loving friendships with people and other animals… and appear to understand when a loved one dies.
And just like people, dogs can even go through their own grieving process.That was the case for one dog, who visited his friends' graves every day after they died to show his devotion.
Tricycle is a three-legged golden retriever rescue who lives at Horse Creek Stable Rescue Sanctuary in Mineral Bluff, Georgia.
Living in the farm sanctuary, Tricycle has always had lots of other animals to be friends with. The rescue accepts all types of special-needs animals, including dogs,  llamas, and alpacas.
Major, a St. Bernard/mastiff mix, was one of the first animals with whom he formed a bond.
For anyone who doubts that dogs have real feelings, this story certainly puts an end to that argument. Clearly, they share the same emotions as humans.