THE RARE MEDICINE HAT HORSE HAS A DISTINCTIVE WHITE FACE WITH A PATCH OF COLOR COVERING ITS EARS AND HEAD AS IF IT WERE WEARING A HAT
|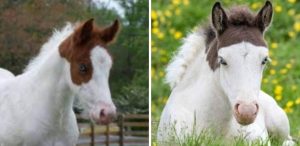 The Medicine Hat Horse is a distinct breed of horse that has been recognized for its distinctive white and dark coloring, with the majority of the coat being white, and the head is dark.
The Medicine Hat Horse has a rich history that dates back to the early days of the American West. The breed is believed to have originated in the Great Plains region of North America.
Video:
According to Native American legend, Medicine Hat horses had the ability to protect their riders from injury and death in battle.