OWNER TAKES PERCHERON HORSE TO THE ARENA SHOWING OFF ITS GLORY.
|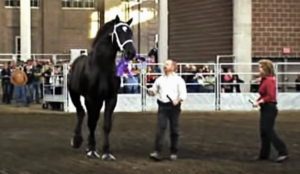 We believe that anyone who loves horses will recognize a Percheron horse as soon as it sees it, thanks to its noble size and soft temperament. They're respected for their strong, noble personalities, as well as their brilliance and desire to please. They were originally bred for fighting and later for heavy drafting, but today the Percheron is suitable for both equestrian and various equestrian sports. Percherons are known to be more energetic than most other draft horse breeds.
Percherons are also one of the few draft horses with exceptional durability. They can adapt to a variety of climates and environmental situations.
If you're thinking of buying a horse, but you've never owned a horse and are a little scared, then Percherons are definitely a good choice. Because of their kind, calm, and peaceful disposition, they are regarded to be excellent horses for starting riders. All of these characteristics make them ideal horses for people who don't have the necessary horse ownership expertise that the majority of other horse breeds demand.
In the video below, you'll see a magnificent Percheron horse that is really attractive and won the 2010 Supreme World Championship in Des Moines. Such a gorgeous horse!
Video: