TRUCK DRIVER FINDS FREEZING SICK PUPPIES TOSSED OVER THE BRIDGE
|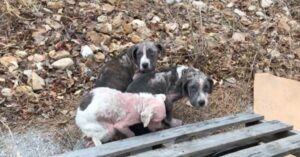 They were found scared, bleeding, and furless, dumped like trash!
A truck driver saw a litter of pups freezing in a highway, so, he pulled off and called Stray Rescue of St. Louis for help. So, the rescue group went to the scene, and they were able to find the pups after searching the area very well.
The poor pupps were all hairless and were bleeding from the frezzing cold. Their skin was very damaged from being exposed outside for a long time. It is very disturbing that nobody tried to help those pups. The team took them to the shelter so they do a check up and start the recovery of the three puppies.
The rescue team is willing to do their best so the wounds will heal and they will be able again to have a normal life and find people who will love them and will take care of them.