RESCUED THIN DOG WAS ABANDONED FOR DAYS BY THE OWNER AND ENDED TOO SWEET.
|
This is the story of Kayros, who lives in Madrid, Spain, and was abandoned by his owner.
He was unfortunate to suffer from extreme pain due to the abandonment by his owner.  The dog was sick and malnourished. He had scabies and couldn't even stand up to walk.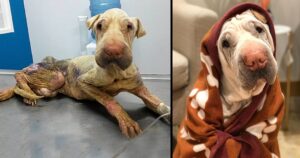 One day, a kind man noticed him and rescued him from hell.  He immediately took Kairos to the hospital for treatment. The staff told him he had come just in time because he was seriously ill. After a month of treatment,he feels much better and healthier than before. Now he is naughty and walks with his master without any problems.
The medical professionals who helped Kayros are greatly appreciated. He also wants to express his gratitude to his master for saving him and his life. He was kind-hearted and gave the dog his all.
Video: