Actual Footage Of SeabisCuit, The Legendary American Racehorse.
|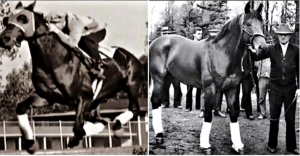 His story was So fascinating, that it was even turned into a famous Hollywood movie. Although he was just a small horse who had been too tired from all the races he had participated in, all he needed to become a champion, was the right owner, trainer, and jockey.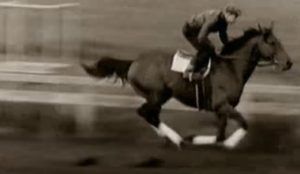 His trainer was an old cowboy named Tom Smith and he understood that Seabiscuit lacked a break and made sure to give him everything he needed, and in return, Seabiscuit became one of the most fascinating racehorses in the history.
Together with his jockey, Smith, they taught Seabiscuit how to interact with humans, treated
Seabiscuit with compassion and honor and Seabiscuit amazingly bloomed. In the video below, you'll see some rare footage that displays some wonderful moments of Biscuit's Iife, including the 1940 Santa Anita Handicap, the great stallion's ultimate race.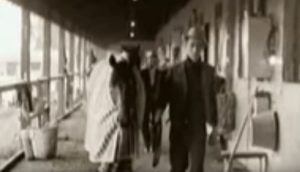 Throughout history, there have been some marvelous horses in racing history, but Seabiscuit will always remain on people's memory because of the unbelievable story behind him. During The Great Depression, three man joined their forces to turn Seabiscuit, from an undersized racehorse to a true champion.
In a tough period for all the Americans, when they all required something to hold on, Seabiscuit came to the rescue and filled an entire nation with hope.
Video: