Tiny Donkey Wants To Be A Clydesdale So Badly That He's Got The Internet In Stitches As He Makes His Case
|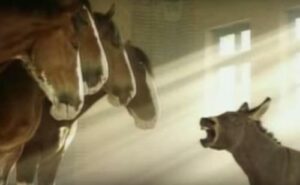 Once again, a touching Budweiser commercial has gone viral online. The film stars a young donkey who aspires to become a famous Clydesdale horse, a breed that is utilized in both farming and racing.
Draft horses known as Clydesdales are distinguished by the shaggy hair on the lower half of their legs. In its promotional activities and advertisements, Budweiser employs a team of Clydesdale horses, which have come to symbolize American advertising. They frequently appear in the business' renowned Super Bowl commercials. The company's headquarters in Merrimack, New Hampshire, or St. Louis, Missouri, where where many of the Budweiser Clydesdales reside.
The miniature donkey talks about his dream in the advertisement to join the Clydesdale racing squad. The donkey puts everything into training, including having hair extensions applied to his legs to give him the signature look and pulling beer to get stronger. The small donkey is finally feeling like a Clydesdale horse after a preparatory montage.
Finally, the donkey gets a chance to audition in front of his dream team. His audition is hilarious and the video is inspiring and motivational.
Although the video is from an old commercial, viewers who are just now learning about it found it to be very moving.
Watch the popular advertisement and let us know what you think about this motivational little donkey!