HORSE REACHES DOWN TO KISS LITTLE BOY AND MELTS INTERNET'S HEART
|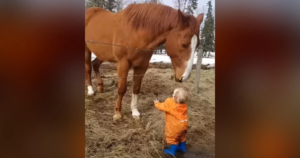 Humans and horses go way back in history. We're talking about ancient civilizations and the like.Domestication of these animals dates back thousands of years, as early as 10,200 B.C.Humans became more domesticated as they learned to tame and ride horses.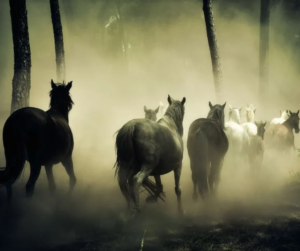 As a result, horses remained close to humans of their own free will. They were trained to transport goods and pull wagons and buggies for work.Horses were extremely important.They fought alongside soldiers and delivered supplies to camps.Imagine how close those horses were to the soldiers.
Today, the majority of horses are companion and therapy animals, which are important relationships in this day and age.
Many people treat horses as pets.
Some even keep a stable of horses to teach others how to ride and care for these magnificent animals.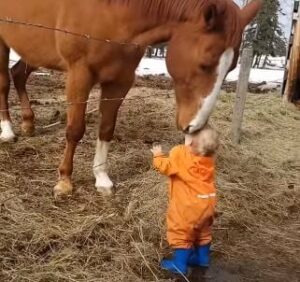 YOUTUBE-VIRALSNARE RIGHTS MANAGEMENT
And what better way to bond than with a few kisses?
This video of a precious little boy kissing a horse has received 244,000 likes and counting.The little guy, dressed in an orange coat and blue boots, reaches up and kisses the gentle horse on the lips.In turn, the horse gently kisses the boy's head.It almost looks like a cartoon!
This horse seemed particularly smitten with this little human.
Just look at its eyes. That's pure love from such a powerful and majestic creature.
What a lucky little boy to have such an awesome friend!
Video:
See, horses do pick up on emotions.
Kids are so pure and so full of love and wonder that this horse picked up on the boy's vibes.