Raccoon has hilarious reaction when he runs out of grapes.
|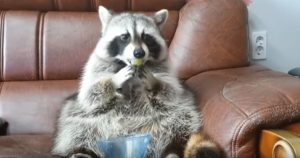 At the start of the video, you see a cute raccoon. He's nestled on the couch with the television on in the background. In front of him, a large bowl of grapes.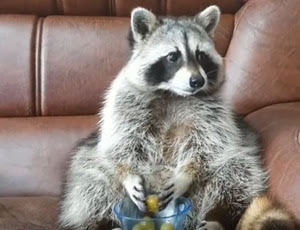 YOUTUBE SCREENSHOT/RUMBLE VIRAL
Sitting there, he uses both of his tiny paws to pick up a grape. One by one, he devours this tasty snack. Just watching him eat is amazing on its own.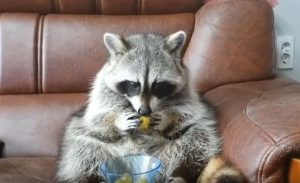 YOUTUBE SCREENSHOT/RUMBLE VIRAL
After popping a grape in his mouth, this raccoon tilts his head back. If you listen closely, you can hear him smacking away. He's enjoying every bite. It's hard not to fall in love with this guy.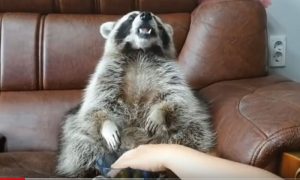 YOUTUBE SCREENSHOT/RUMBLE VIRAL
But as the raccoon has his head back, his owner reaches their hand in the bowl. Quickly, she grabs the remaining grapes. Soon, this critter is ready for another. That's when the video gets even funnier.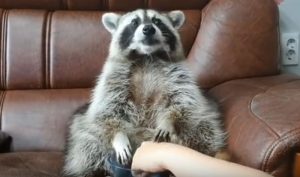 YOUTUBE SCREENSHOT/RUMBLE VIRAL
He then gets ready to enjoy another grape but realizes something's not right. So, he sticks his entire head in the bowl, followed by using his paws as he tries to figure out what happened. At this point, his owner is giggling.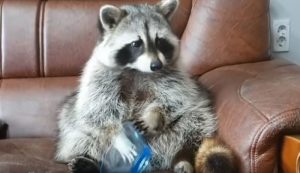 YOUTUBE SCREENSHOT/RUMBLE VIRAL
While still chuckling, the raccoon rubs his tiny paws together, displaying an adorable gesture. His owner eventually gives in to his undeniable charm and hands him another grape. Without any hesitation, the raccoon promptly accepts the offering, popping it into his mouth just like the others.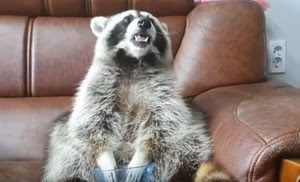 YOUTUBE SCREENSHOT/RUMBLE VIRAL
This raccoon's love for grapes knows no bounds. With each endearing glance and smacking sound, the video becomes an enchanting spectacle.
Video: