MAMA HORSE WHO LOST HER BABY BECOMES INTERNET SENSATION 'ADOPTING' ORPHANED FOAL.
|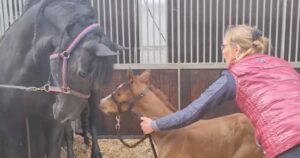 Animal mothers love their babies so much. Like humans, all they want is for their baby to be safely delivered into the world.
Sadly, though, sometimes there are complications during birth.
What we as people go through, animals go through as well. Mama animals are equally heartbroken when their offspring or children die before they are born. When they realized they had lost their children, some would stay looking for them and become unhappy. In the Netherlands, Queen Uniek, a Friesian horse, was expecting her first kid.
She sensed something wasn't right the instant she went into labor. She burning her lips and walking in circles within her stable since she was nervous at that occasion. Her owner, Yvonne, stood by her side, attempting to calm her down.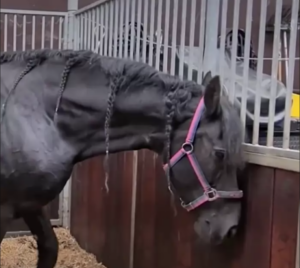 Uniek gave birth an hour later, and the veterinarians who assisted pulled out a foal that wasn't breathing. They did their best to revive him, but they were too late. He didn't make it.
Yvonne remained by Uniek's side to console him. The distraught mare tried to revive her foal by licking him, but it didn't succeed. They removed the foal from her barn as Uneik was comforted by Yvonne. She was well aware that her beloved horse was in excruciating pain.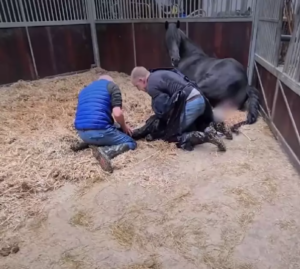 Then Yvonne and the rest of the Friesian Horses team got some fantastic news. Her friend called, telling her that they had an orphaned foal in their care. She wasn't sure how receptive Queen Uniek would be to another horse's foal, but she thought it might just be the solution to her grief.
The foal was loaded into a van and sent to their property. Yvonne wanted to check if Uniek was interested in adopting the foal. She had lost her son, and the foal was without a mother. The barn was brimming with optimism.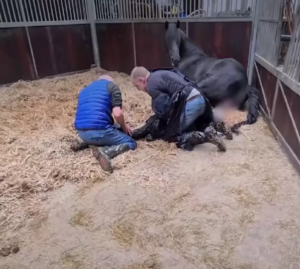 Yvonne brought the foal closer to Uniek over time. The first few encounters were a little shaky. She sniffed the foal, and the foal returned the sniff. She did a little dance, and they could tell she was overjoyed to have the foal in front of her, almost as if she was claiming him as her own.
"It was a once-in-a-lifetime experience." This is something I never expected to happen. "We knew Queen Uniek had accepted Rising Star right away," Yvonne told The Dodo. Queen Uniek has never left Rising Star's side since then.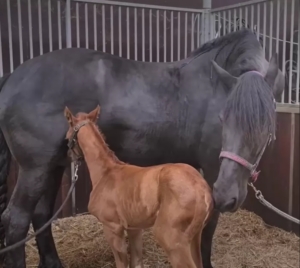 The next day, they found the lovable mother and son inside their stable, and Uniek became very protective over her adopted foal. Wherever he went, she did, too. Rising Star always walked close to Uniek.
Whenever Yvonne took the two out in the field, Rising Star was the happiest foal she'd ever seen. He ran and played around freely as any young animal would. Uniek, on the other hand, followed right behind him and made sure to keep her little one in sight.
Video: