RESCUE DOG KEEPS PAW ON NEW OWNER AT ALL TIMES TO MAKE SURE HE WON'T BE LEFT AGAIN
|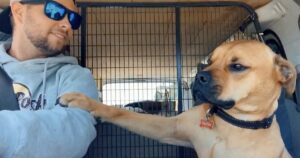 Sometimes all it takes to turn a timid, fearful puppy into a loving, dependable dog is a little bit of love.Sam Clarence adopted Stanley from a bully breed rescue in Christchurch,New Zealand, and that is precisely what occurred. When Stanley was just six months old, he and his mother and sister were discovered living on an abandoned piece of land!
A local shelter contacted Clarence,who walked dogs, to temporarily foster one of the puppies. He had no idea that this foster dog would quickly grow to be his most devoted friend. Stanley, however,  had a different reaction than Clarence, who fell in love at first sight. It took him an hour simply to get out of the car because he was that afraid.
He would lay behind Clarence and always have to have at least one paw touching his back. When they go on road trips, Stanley always makes sure to keep a paw on Clarence. If Clarence moves,  Stanley moves with him. He is a very loving dog and isn't afraid to show it.
Stanley has broken out of his shell and is no longer scared. He loves his new dad and is so very grateful for his second chance at life. Stanley has transformed from a timid, frightened pup into a friendly, outgoing "velcro dog." He loves everyone he meets, including other dogs.
Video: