Once reunited with her puppies, a Shih Tzu who had been abandoned at a shelter while pregnant stops worrying.
|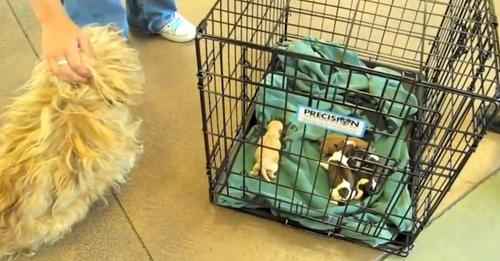 A Shih Tzu that was abandoned while in labor at the East Valley Shelter in Los Angeles received assistance from a rescue group after they were informed that the dog and her babies were in danger. The small puppy was terribly emaciated and had matted knots all over his body. Her puppies couldn't feed because her fur was so terrible.
The Bill Foundation received an urgent call to assist the new family and drove to the shelter right away. The mother was given the name Asha Attie, and she and her pups were hurried to the veterinarian.
All of her tangled fur took 90 minutes to shave off. She spent the entire time looking over nervously at her puppies nearby. They started nursing successfully as soon as Mom was near her puppies. Asha (together with her rescuers) were overjoyed!
And the good news didn't stop there after they were rescued. Since this video was made, the Attie family has all found loving homes.