Incredibly Rare White Cardinal Spotted In A Retiree's Backyard In Gallatin, Tenessee.
|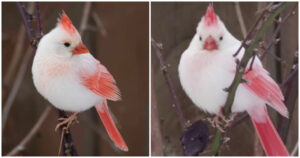 You may spot stunning cardinals somewhere on social media. There are many photos and videos about them. If you are lucky, you may even encounter these visitors right in your backyard. These birds are quite friendly with humans, so they sometimes pay a little visit to your garden.
A birdwatcher in Gallatin, Tennessee was taken by surprise, after a very unusual bird visited his backyard. Scott Davis, a 67-year-old retiree, witnessed and extremely rare sight of a white cardinal.
Even fond of birdwatching almost his entire life, this was the first time Davis encountered such a stunning sight. The bird – nearly all white, with only its tail and wings light red, has landed straight in Scott's backyard. Just as he does every winter, Scott put some some seeds on the snow that covered his garden. However, he never expected to catch such a glimpse.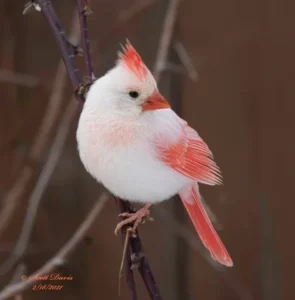 Photo Credit: Scott Davis
"It's actually the prettiest bird I think I've ever seen," Scott said. "It's an unnatural color. Maybe that's what makes it so pretty. It's just so odd and rare."
Even if it was a very short visit, it was enough for Scott to grab some adorable snaps and a footage of the rare white cardinal. According to the birdwatcher, once the bird flew away, it never returned. But who knows, it's never too late for such an incredible visit.
Video: