A stray dog who is afraid of people, gathers the courage to ask one man to take his pain away
|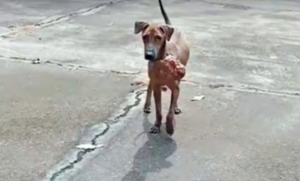 Not only do stray animals face starvation, but they are also forced to handle medical issues on their own.
Thankfully, animal rescuers go above and beyond to help. When a group learned about a stray dog with a large tumor, they began their search for him. It wasn't simple, but eventually they received a call that he was exploring a nearby temple.
When they finally got there, they were astounded by the size of the tumor on his shoulder. The dog kept trying to lick the discomfort away while being clearly in pain. That he had been through this on his own horrified the rescuers. He needed to be taken right away to the vet hospital.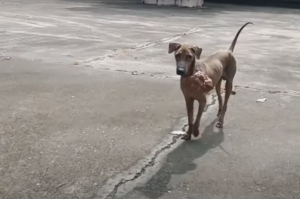 He was taken immediately to Emergency Vet Partner since he was now a critical case. The fact that the dog had even survived this long shocked the vet! The infection was growing from the tumor and the tissue surrounding it, and as the veterinarian and his crew drew nearer, they could smell it. Both pus and blood were present inside. He need surgery right away.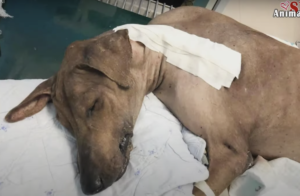 It was like seeing a completely different dog after the veterinarian removed the tumor. He continued to require 24-hour access to IV antibiotics and painkillers. Once he was released from the hospital, the rescue organization began contacting medical foster homes to take him in.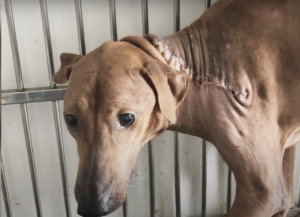 Surprisingly, the former stray recovered quicker than expected and was healthy enough to visit his new family. His medical foster mother adores him to pieces! She ensures he attends all of his veterinarian appointments and takes all of his medications. Although he continues to take painkillers, he is progressing really well. He will fully recover and lead a regular life, according to the veterinarian.
Video: