Adorable Pit Bull Brings Every Stuffed Animal To His Parents As Gifts.
|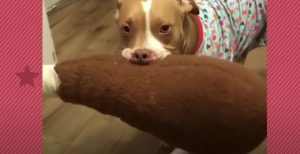 Mocha Bean the pittie always has to carry around his favorite stuffed toys. Kat Svraka, Mocha's mom, says he loves to pick up any toy close to him and bring it to her or her boyfriend like it's a gift.
Video:
Kat rescued Mocha Bean when he was 11 weeks.