Young Horse Tries To Get Curious Elk To Play Ball With Him.
|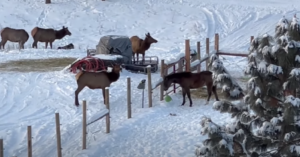 A young horse recently piqued the interest of a wild elk on a Montana property. The elk noticed the eight-month-old colt playing with a ball and came over to see what he was up to. Soon, the two were playing together.
Tamara Miller, the horse's mother, captured the adorable exchange in which the colt attempts to entice the elk to play ball with him. "When [the colt] sees the elk, he just wants them to play ball with him," Miller told Storyful. He is not aggressive, but rather playful."
At one point the colt even throws the ball over the fence to share it with the elk so he can have a go. Of course, the elk being wild, doesn't know what to make of the toy but he plays with the horse in his own way.
Miller said the elk come over to her property at random times to try and eat her horse hay. This particular elk, she said, is pushed away by the other elk and then visits her colt.
Video: