SMALL DEER FINDS HIS BEST CAREGIVER – THIS SWEET CAT AFTER BEING REJECTED BY HIS MOTHER.
|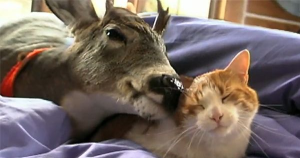 In animal world different types of animals
express their love in different ways. Each of
them of course deserves very special attention
and love.
They are all so wonderful that it is simnply
amazing how sensitive and intelligent they
can be.
This is a wonderful and inspiring friendship story. This deer was discovered alone, completely weak, and on the verge of death without his mother.
One day a couple suddenly found a deer and
they felt so sorry for him because he was
completely alone and would simply die
without his mother. So they decided to take
the poor animal home with them.
At first, this little deer could not get used to
the presence of people, because everything
was very strange and unusual for him.
However, he sOon began to get used to all of
this. There was another pet in this house, their
cat, who took on almost all the care of the
deer,looking after him very carefully, as his
Own baby.
They now stick together whenever and wherever the cats go, and the deer is especially pleased and takes care of both his feline companion wherever he goes. The baby deer is now completely integrated into this family and happier than ever!
It is obvious that they have learned to be in
each other's presence, they feel very calm and
safe.
They have a great time playing together!
It's incredible how animals adapt and bond with friends of other species.
Video: