TOO CUTE TO BE TRUE 4-MONTH-OLD CUB GETS A BATH, BUT DON'T MISS WHEN HE GRABS THE APPLE.
|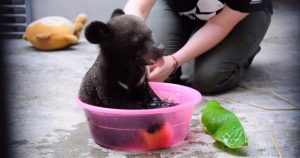 Adorable baby bear Smudge LOVES his bath time! This four-month-old black bear cub is being cared for by a rescue and rehabilitation organization in China, and he seems to be having a great time in their care nibbling on apples, climbing around, receiving belly rubs, and his favorite activity, playing in the bath. Watch as he nibbles on apples in the bath. Bringing two favorite activities together is what Smudge would call a win!
Smudge was originally born on a bear bile farm in Nanning, China. He was rescued when the owners of the farm turned their property over to a bear rescue. Smudge was just one of over 130 bears on the bile farm. All of the bile farm bears were placed with rescue organizations, such as Animal Asia, the organization caring for Smudge.
Smudge's life now includes daily activities designed to keep him strong, healthy, and entertained. He has a paddling pool available to him, as well as a climbing frame, comfy straw bedding, and stuffed teddy bears to play with.
The Chinese Bear Rescue Center in Chengdu, run by Animal Asia, provides a safe haven where bears may spend their last years in a stimulating environment. There are 11 bear houses, 15 natural and semi-natural enclosures, special care enclosures for older bears and bears with mobility issues.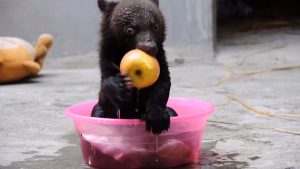 Source: Animals Asia
They can currently house 250 bears. On-site facilities include a fully equipped veterinary hospital, a sheltered quarantine area, an administrative block, a public education center, and a bear kitchen.
Video: