The Pinnacle of Palomino Ovaro Excellence in Quarter Horse Stallions.
|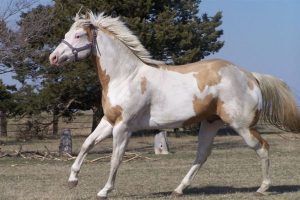 American Quarter Horse, Invested by Far is an impressive Palomino Ovaro stallion sired by Invest Your Bucks out of the mare Specal By Far who is a daughter of Mr Far Verse. Invested by Far was born in 2004 and stands at 15.3hh in height. In 2009 he was crowned World Champion 3 year amateur stallion, Reserve World Champion open stallion at Paint World Show.
For those seeking a closer look at the prowess of Invested by Far, a video has been curated to showcase his beauty in motion. From the powerful strides that command attention to the moments of gentle connection with his handlers, the video captures the essence of what makes Invested by Far a true star in the equestrian world.
Video: