PREGNANT HORSE'S OWNER NOTICE 'STRANGE AFTERBIRTH' AFTER DELIVERING FOAL AND REALIZE IT'S TWINS.
|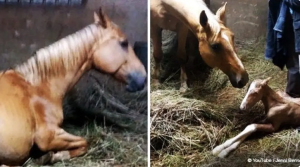 Jenni and Guy were anxiously awaiting Treliver D'Aquitaine (aka Daisy) to give birth. The mare was 7 days over her due date when they were called up to the stables. They rushed up just in time to help Daisy give birth to Don Quixote, a stunning palomino colt.
They observed he was quite small for a such a big mother (Daisy is just under 18hh) but they were still thrilled with how beautiful he was. As the Bensons fussed over the foal, Daisy seemed to go back into labor. She began pushing but would not lay down, she was too interested in her new baby. Concerned, Guy carefully reached inside to check the afterbirth, instead he felt two feet. Twins! The second foal was gently guided out falling into their arms. The little filly was tiny but breathing, a miracle. And she made it immediately clear to all that she was a determined individual. Within minutes she was standing and trying to nurse. It was a miracle – two twin foals – as the stats for twins surviving is minuscule.
Video:
Several weeks later, the two foals got out of their stable for the first time with their mom.
The First Family Outing.
Video: