LITTLE GIRL GETS STUCK WHILE WALKING HORSE IN THE SNOW – HORSE KNOWS JUST WHAT TO DO.
|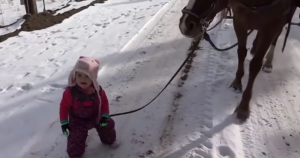 Emma may be small, but she has a big heart.She has such a big heart that she adores a massive horse named Cinnamon. Emma and Cinnamon went for a walk together on a beautiful Winter morning. Emma's father captured the touching moment on video. Emma's stumbling around is adorable, and Cinnamon's patience with her is admirable.
It's almost as if the horse notices the problem before anyone else!That's why Emma and Cinnamon walking together is the cutest thing ever. This horse and little girl's interaction is adorable!And I'm not the only one who thinks so, as the video has over 5 million views and countless comments gushing about how adorable the two are !
The cutest part of the video is when Emma's dad asks her questions about Cinnamon. He asks if that is her horse and she responds with enthusiasm, "Yeah!" She can't quite pronounce Cinnamon's name, so it comes out more like "Cimmon." It's adorable.
Video:
It might make some viewers nervous to see such a tiny girl leading a giant animal like Cinnamon. But the horse is as calm as a still pond when Emma is around. She even stops and waits for Emma to get a hold on the reins when she gets them wrapped around her leg. Cinnamon is almost more patient than Emma's dad is!