Police officers brave freezing waters to rescue blind border collie from pond.
|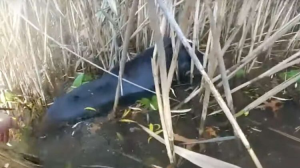 It's a police officer's duty to look out for everyone in their community, whether they be human or animal. Recently, one group of NYPD officers came to the rescue of a blind dog who was trapped in a pond.
It was an especially scary Halloween this year for an 8-year-old border collie named Sparky, who ended up stuck in the frigid waters of Baisley Pond in South Jamaica, Queens.
Someone dialed 911. According to WABC, NYPD officers Branden Williams and Marc Esposito of the 113th precinct responded to the call. They originally waited for more help, but when they heard the dog's call, they knew there was no time to spend.
"It was truly heartbreaking to hear," Esposito told CBS News. "We contacted our Emergency Response Team." They stated they were coming, but simply listening to the dog made us realize we needed to act."
"We couldn't see him but we could hear him crying out, so once we heard that, we knew we had to do something, we had to jump in there," Williams was quoted as saying by WABC.
The water was deep and freezing cold, making it difficult to reach the dog."It was shallow, but it was so uneven so you'd take a step, and then another step and that next step you just sank all the way down until you're chest high, neck high, so it was a bit of a struggle to get to the dog," Esposito said.
Video:
Finally, they reached the freezing dog and brought him back to dry land. Seeing his clouded eyes, they discovered that Sparky was blind. Despite the ordeal he went through, he was said to be a good and friendly dog.
Officers returned him to the precinct, where Animal Care and Control scooped him up. The dog was evaluated by veterinarians and treated for hypothermia. Sparky was reunited with his owners, who had reported him missing the day before, and is currently recuperating at home.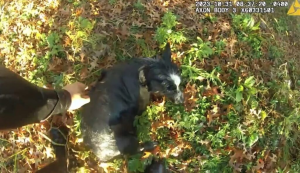 It's always inspiring to see people go out of their way to rescue animals like this, and the officers say they were happy to help a pet in need.