POLICE OFFICER RESCUES DONKEY FROM BUSY HIGHWAY AND DRIVES IT TO SAFETY IN PATROL CAR.
|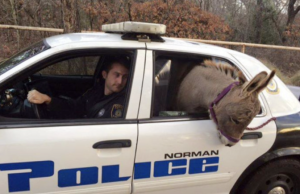 Robin Strader, of Norman, Oklahoma, was on his way to work when he noticed something very unusual in the middle of the busy highway he was driving on. A frightened donkey prowled along the road. The woman immediately pulled over to her car and jumped out to help the frightened creature, but not before calling the authorities.
In the meantime, Robin managed to not disturb the donkey. Officer Kyle Canaan arrived after some time. Officer Canaan, at first, had no idea how to handle this completely unusual situation, but he quickly figured it out. At her home a few miles away, the woman offered to adopt a donkey named Squishy. However, because the proper vehicle took too long to arrive, officer Canaan decided to give Squishy a ride. A ride that Squish happily accepted. Norman, OK Police Department wrote on Facebook that its officers encounter the unexpected on a daily basis. "This morning, Officer Kyle Canaan answered a call about a donkey roaming along 120th Avenue NE at 8100. He transported the donkey to a nearby home to ensure its safety until its owner was found. It's not every day that you see a donkey in a police car!"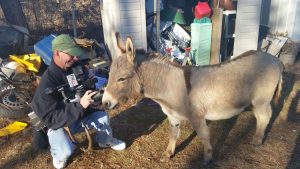 The rescue donkey didn't bother getting into the back seat of the patrol car, a space usually reserved for outlaws. Moreover, the two got along very well and also had a lot of fun during their trip.
Video: