POLAR BEAR IS SO ATTACHED TO HER HUMAN DAD SHE PURRS WHEN HE'S NEAR.
|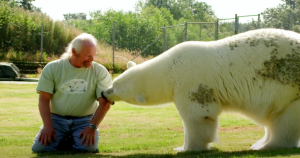 He is the only human who has such a close relationship with a polar bear.Domesticated animal relationships, such as those between cats and dogs, are normal and expected.A special bond between a man and a polar bear is not.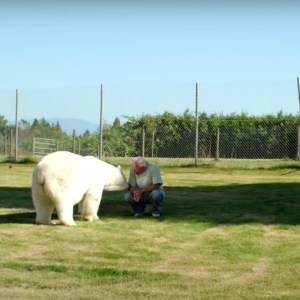 After all, male polar bears weigh approximately 1,500 pounds when fully grown, while female polar bears weigh approximately 1,000 pounds. These are not the kinds of animals you want to keep in your backyard.
These statistics help to explain why the close bond between polar bear Agee and Mark Dumas is one of a kind and rarely seen between wild animals and humans.
Agee the Polar Bear loves her dad Mark so much that she purrs when he is nearby. Their incredible story is one for the movies.
Animal trainer Mark Dumas works preparing animals for feature films. Once he was asked to get a baby polar bear for a movie and located a bear who had been abandoned by her mother. He then raised the bear from the time she was 8 weeks old, and he became both mother and father to the bear he named Agee.
Now fully grown, Agee has bonded completely with Mark and his wife. She gets upset if anyone else steals Marks's attention away from her, and she gets completely happy when he's near her.
Video: