Man Skips Wedding To Rescue Dog Was Caught On Cam
|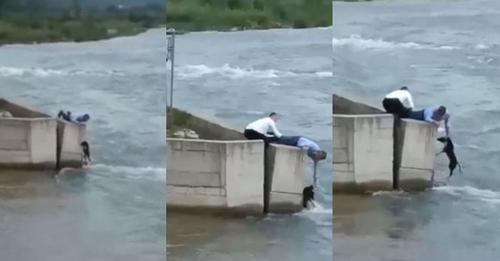 Many animal rescue videos can be found on the internet. These movies serve as a reminder that some people will have to make sacrifices in order to restore humanity's faith in us.
The video of a man skipping his wedding to save a dog ties in wonderfully with the previous one. The footage was first uploaded on Reddit, and some internet users suspected that the incident occurred near Montenegro's Lim River.
A dog may be seen peering up at the concrete base near the overflowing stream in the three-minute footage. A man dressed in a traditional two-piece suit approaches the riverbank in a matter of moments to begin his rescue attempt. As the water continues to run swiftly beneath the dog, the man removes his two-piece coat and tries to reach the struggling canine.
A second man attends the scene and joins forces with the first to save the dog. With a helping hand, he pulls the man from behind and successfully saves the dog.
As the video is close to the end, the man hugs another woman who rushes to the spot. The dog was seen following the man who rescued him. Giving the incident a sweet little ending.
Watch the Video Here: