MAN SAVES HOMELESS PUPPY WITH HEAD STUCK IN POTATO CHIP BAG.
|
A puppy alone in a snowy field was in trouble when a man driving by spotted the puppy with her head stuck in a potato chip bag. The video, shot in southern Manitoba,Canada,  shows a man approaching the struggling puppy and pleading with her to come over to him. I'm not sure I'll make it there," the man says as he walks through the heavy snow on the ground."I'm drowning."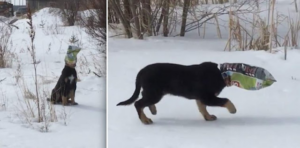 Although it is unknown where the tiny puppy was living, it is possible that it was one of the many strays living in and around the Canadian province's First Nations communities,which have widespread stray dog problems.Animal advocates are working to change the situation in which semi-feral Rottweilers,Border Collies, and Pitbulls roam Manitoba reserves.
According to one rescuer in the province, thousands of stray dogs are starving, sick, and struggling to survive.According to Jasmine Colucci of K-9 Advocates Manitoba, she frequently sees dogs frozen to death due to the cold or with a bullet hole in the head.The number of homeless dogs in need of rescue and care has overwhelmed her and other rescuers. We 're hoping this pup will be one of the lucky bones and has been saved.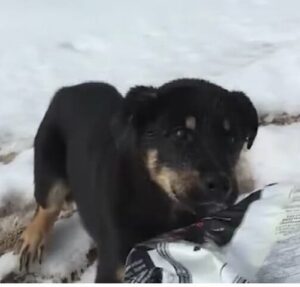 Video: