Orphan Foals Are Introduced To New Adopting Horses.
|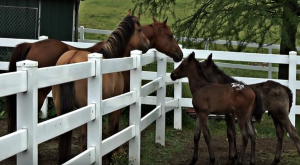 As you can see in the video below, all mares are confused about their new arrival at the stables, while orphans are also confused, and they don't know that their lives will soon improve, many Spend very long and very different time with their new family, if not forever, take care of them.
Video:
A very sad moment in the horse world is when a small foal is left without having a mare to feed them, or someone to take care of them.