Baby Mule Slips and Falls While "Dancing".
|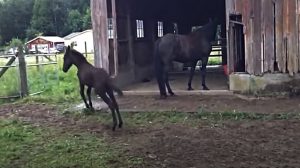 Raven is only eight weeks old. According to her owners, she is very full of herself. She's happy, healthy, and also very joyful. In this video, she is "fighting" with a small white rock and showing off. Her antics are one of the cutest things you will ever see today.
At one point, she even fals down due to all the
excitement, but that little slip doesn't stop this
spirited girl. She is a very adorable mule with a lot of sassiness at a very young age. That is the great thing about these animals and that is why we never get tired of them.
What did you think of the video? Have you ever seen something like this? Did you find the mule just as adorable as we did? We would love to hear what you have to say so please do not hesitate to leave a comment down in the comments section! Please share this video with your family and friends as it is sure to make them smile!
Video:
We've all been in a situation where we've been so excited about one thing or another that we've actually embarrassed ourselves. In this hilarious footage we witness the adorable moment when a joyous mule gets too excited and starts jumping around the stable enclosure, dancing in circles which eventually sends the happy mule flying on the ground after she accidentally slips on the mud and falls to the ground! However, this unfortunate incident doesn't stop the mule from moving her happy feet, and the little baby continues to jump for joy!