Little Child Dressed Up As Red Riding Hood And Her "Big Bad Wolf" Husky Are So Adorable They Go Viral
|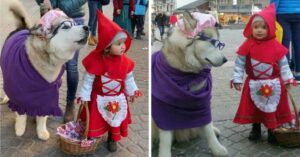 Due to their absolutely adorable costumes, this little girl and her husky have gone viral!
The girl, named Agata, was celebrating Carnival in Cortina d'Ampezzo,  Italy, dressed as the classic fairytale character Little Red Riding Hood.
Agata was a precious sight in her own right, but her companion made the scene even better; her beautiful Husky pup,Yanuk, was keeping her company dressed up as the Big Bad Wolf.
More specifically, he was dressed like the Big Bad Wolf disguising himself as Little Red Riding Hood's grandmother.  It's almost too cute to be true.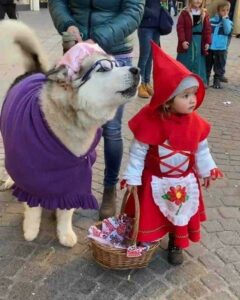 Yanuk wore a purple shawl and accessorized with a small bonnet and a pair of reading glasses.
The good boy looked like he'd just stepped out of a storybook,  and he went perfectly with Agata's sweet costume.
They seem to have a fantastic friendship and little Agata is lucky to get to grow up with such a cute and loving friend by her side.