HORSES BEHAVE HILARIOUSLY WHILE THE MANICURIST TRIES TO FILE HOOVES.
|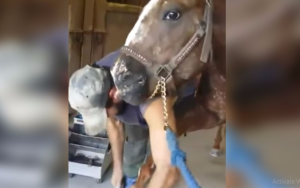 Jack, the speckled special needs horse, seen in
the video below, has no problem allowing his
farrier, AI, to work on his hooves. As a matter of
fact, he nudges and licks the farrier with an air of contented gratitude while the man tries to
complete his work.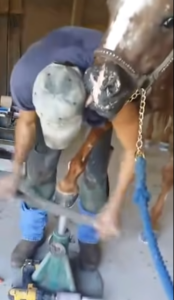 Every conscientious horse owner is aware of how important it is to take care of their animal's feet in order to preserve its health. Too lengthy or unevenly growing hooves can ultimately split or 'eak, harming the leg muscles and tendons and even jeopardizing the horse's spinal alignment.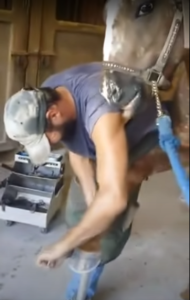 Trimming hooves is not painful for a healthy horse; it is very similar to trimming the toenails of a human. Jack certainly doesn't seem to mind having Al file and polish his hooves — he appears to be grateful for the pedicure!
Watch the video below: