Horse Is Really Excited To Meet The Beautiful Large Tortoise.
|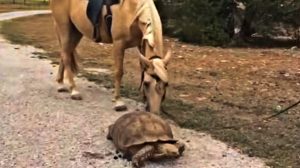 At first sight, it seems like something that is never going to work out but later on, you realize that it is totally not true when you get to see the special chemistry that they have with each other. That's why it is so beautiful because it really shows that animals are very sociable not only with humans but other species as well.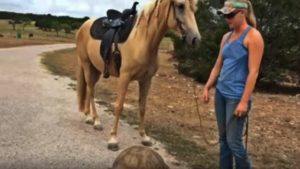 One of the best things for every person who owns different species of animals is when these species get along really well with each other, on the other hand, if things do not go well then it is going to be a huge problem, especially if we refer to dogs and cats who are known not to be very collaborative with each other.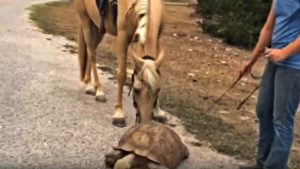 However, there are also other great duos like dogs and horses who usually get along pretty well due to a lot of similarities that they have. Well, we are not going to talk about such a usual case but we will focus on a more peculiar one instead. This beautiful fair-haired foal is named Sunny and while on a stroll with her caretakers, she encounters a "moving rock."
That rock is actually the farm's large tortoise buddy, Stoney. The hefty reptile slowly moves his massive shell along the ground as he munches on some yummy, leafy treats. Meanwhile, Sunny sniffs and stares at him and seems all around perplexed by the new creature. I'm sure she'Il get used to him in no time and the two wil become the best of friends.
Although, it might be a little more difficult for
Stoney to climb on board for a ride atop Sunny any time soon. That shell is just a bit too clunky to fit on any saddle. They'll probably have to stick to some nice long, slow walks together. It really seems like the beginning of one of the most beautiful friendships ever.
Video: