Hilarious Budweiser Clydesdale Horses Get Into A Snowball Fight Between Each Other.
|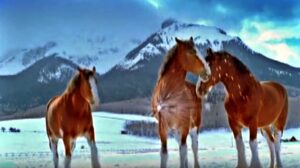 In the moment that a company publishes a commercial it needs to be catchy and grab everyone's attention and I believe all the commercials that include Budweiser Clydesdales are among the best ones. Superbowl is one of the most successful championship games in the US who has also attracted a lot of viewers worldwide. All this success that Superbowl has is a platform to showcase the beauty and majesty of Clydesdales and give them huge popularity. They might be among the top 5 most popular horse breeds in the world.
The video below is a hilarious Budweiser commercial from 2005. It features a group of Clydesdales having some fun in the snow. One of the things that come to mind when it starts snowing is having a snowball fight. I was in hysterics when these adorable horses began doing just that.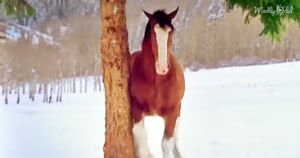 I haven't laughed so hard in ages when the giant beauty goes to the tree and stops. When he bumps the tree to drop the snow on his mates, I almost cried with laughter. No doubt there is a lot of CGI, but this has to be one of Budweiser's best commercials (though admittedly, that would be a tough call to pick a best).
The brewing company Anheuser-Busch says it owns around 250 Clydesdales. According to them, 'the Clydesdales continue to be an enduring symbol of the brewer's heritage, tradition, and commitment to quality.'
What do you think about this commercial of Budweiser's Clydesdales?
Video: