SAY HELLO TO CARLY, THE NEWEST FOAL IN THE BUDWEISER CLYDESDALE FAMILY.
|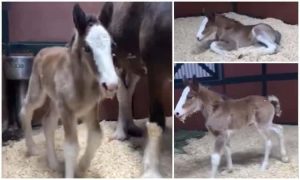 The Budweiser Clydesdale horses are the most recognized horses on the planet.  Although they perform in many countries, they may be best known for their beloved appearances in Super Bowl television commercials.
Warm Springs Ranch in Missouri is the official home of the Budweiser Clydesdales, and every year they welcome around two dozen foals into their family. In 2019, the first of those foals arrived in March.
Her name is Carly, and the Warm Springs Ranch proudly announced her birth via social media. The best part is, they included an adorable video of her first steps.
Video: