Heartwarming Story: Homeless Man Celebrates Dog's Birthday
|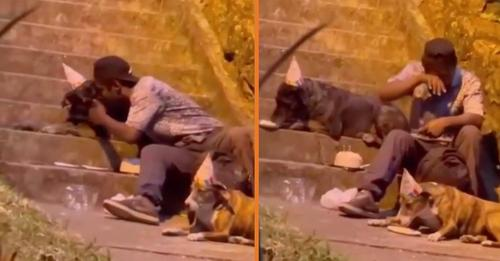 A homeless man from Colombia demonstrates that kindness is free. He has been praised online after a video of him celebrating the birthday of one of his pets went viral.
The man dressed the two dogs in party hats and patted them while sitting on a stairwell one night. He then proceeds to pull a tiny cake from a plastic bag, as no birthday party is complete without one.
The father is then heard singing "Happy Birthday" to his dogs and showering them with kisses after lighting some candles. Choco, the man's name, is then seen serving a piece of cake to each of his dogs before tasting it himself.
Watch the heartwarming video here:
The man lives on a street in the Cabecera district of Barranquilla, Bucaramanga, according to Rótelo, the journalist who initially released the footage. Despite being homeless, the man is well-known for caring for his dogs and is frequently seen with them.
Many people approached him after the video went viral and lavished him with affection and presents. Residents have donated a variety of items to the man and his dogs at a meeting location in San Po Park.
Choco, whose true name is José Luis Matos, comes from the municipality of El Peón, according to Instagram search results.
He explained that the celebration was to commemorate the fourth birthday of his dog Shaggy (the black one in the video). Nena, his other dog, has been with him for ten years and celebrates her birthday in November.
He stated physical abuse caused him to leave home and start living on the streets while answering questions from individuals who joined his Instagram live.
He also talked about his ambitions to study music and run an animal refuge.