EVERY DAY, A LONE MARE WALKS BY HERSELF WHILE WEARING A NOTE AROUND HER NECK
|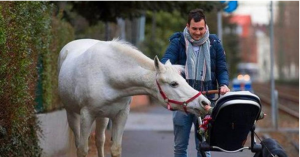 Her beautiful story has touched the hearts of many, and now she's a local celebrity!
Outdoor cats are known to wander, and dogs expected to get loose – but in Frankfurt, Germany's Fechenheim district they have grown accustomed to a different kind of 'outdoor pet' – an Arabian mare named Jenny. The effervescent white horse strolls lazily through the streets each morning, on the same route, with no handler in sight. For the people not familiar with the animal she wears a card that reads: "I'm called Jenny, not a runaway, just taking a walk. Thanks."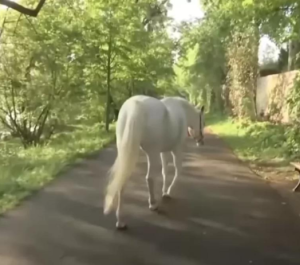 Jenny has been taking this walk alone for the past 14-years, because her owner, 79-year-old Werner Weischedel can no longer ride her. Every morning the old man opens his gates and she trods along the paths they used to take together.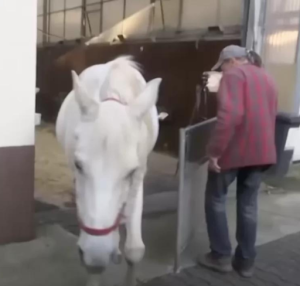 She happily trots off on her own, exploring the roadways, railways, and back alleys like she owns the place!
The Arabian mare has been a fixture in the Fechenheim district, a green part of Frankfurt near the bank of the Main River, for more than a decade.
All the locals know exactly who Jenny is, and they really look forward to seeing her every day.
Keith Anderson writes on Facebook:
"She enjoys greeting all of the familiar faces along the way, and she stops and gets treats and pettings from some of her favorite humans. The locals treat her like a celebrity and happily clean up after her."
But, just in case a tourist might think she's a runaway pony, there's a friendly note attached to her halter that says otherwise.
"My name is Jenny, I didn't run away. I'm just going for a walk. Thank you."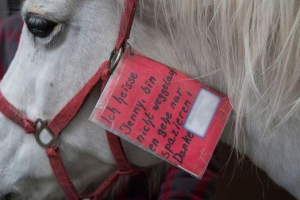 How adorable!
Video: