Police Horse And Horseman Scratching Each Other's Backs.
|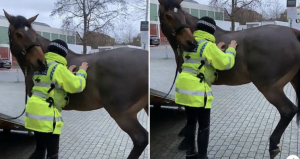 Another adorable video demonstrating how adorable a loving and compassionate horse was posted on Twitter with the cute caption "You scratch my back, I scratch your back" .. In the video, you can see the sweet moment when a police horse scratches a police officer's back as his rider rubs his side.
Footage shows mounted Avon and Somerset police officers scratching an animal with both hands. The adorable horse enjoyed it a lot and decided to take care of himself over the rider's shoulder and give back by rubbing his back.
The gentle temperament of horses and another piece of evidence that tells us more that horses always tend to protect and care for other creatures, in this case humans.
Video:
You scratch my back and I'll scratch yours. 🐴 #PHQuantock pic.twitter.com/UNwm5zsZ68

— ASPoliceHorses (@ASPoliceHorses) January 11, 2020