Elderly Neglected Cockatoo Finds His Lost Voice with His New Family.
|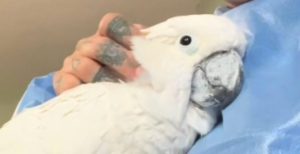 After his owner died, Fred was found living in a home with raccoons, feral cats and skunks. His cage hadn't been cleaned in a very long time and he was missing a wing. Ash and Alex with The Shore Sanctuary took Fred in.
He was very quiet when he first arrived at their sanctuary. But he began to warm up to the attention and care he was receiving. Soon, Ash noticed he would bark along with the dogs. Encouraged by his new family, Fred started to sing and dance and express himself!
Ash says Fred is a big "marshmallow" and wants to be snuggled all the time. He would grow nervous when he saw a travel carrier because he worried that he would be taken away from his new home. But now he is more comfortable and feels secure with his family. Fred does have some health issues (a heart murmur and needs nasal flushes) but he is so excited to use his new abilities – like jumping from one lap to another – that it's like he's a cockatoo reborn.
Video: