Dog With Derpiest Personality Has People Wondering If He's Part Cat Or Seal
|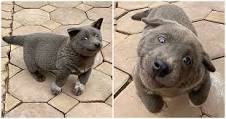 A dog named Dui is melting hearts all over the world, and once you see him, you'll understand why.
Dui resides in Vietnam with his loving humans, Hai Anh and Tuan.
Dui's photos went viral after they were posted on Reddit with the caption: "Meet the derpiest fuzzball to ever walk the earth."
When his humans saw how famous Dui was, they decided to create a Facebook page for him, which now has over 229,000 followers.
While some believe he looks like a hybrid between a dog and a cat or a dog and a seal, others think he's a Corgi mixed with a Vietnamese breed called Hmong.
However, Dui is actually a cross between a native dog breed and a short-legged dog known as a Dingo.
His owners believe he may have a gene mutation and claim they found him in a Vietnamese highland province.
Despite his breed, he is a happy and healthy dog who enjoys playing and running around like any other.
He also has the goofiest and derpiest facial expressions we've ever seen and we just can't get enough of him!