Dog Becomes Overjoyed After Finding Out His Military Mom Is Back Home.
|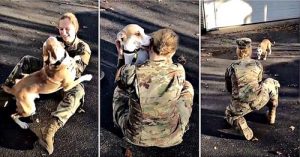 I don't know if there's a word appropriate enough to describe this pup's level of joy.
Janna Berger is a soldier, so she is frequently away from home for extended periods of time.
As much as she enjoys her job, she has a difficult time separating from her pet dog. In fact, when you consider your dog to be a family member, it is extremely difficult to stay away from him.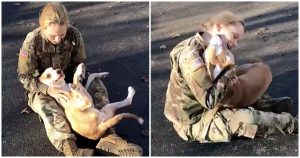 While she was gone, she had to leave her dog, Murphy, with her family for eight long months. When she last saw Murphy, she was afraid he wouldn't recognize her when she returned.
Murphy had to wait outside in the driveway until someone else arrived before she could leave the house. He screamed and ran as fast as he could when he realized it was his mother.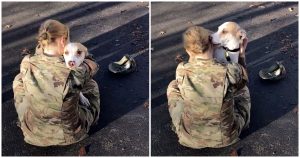 He approached his human slowly but steadily and sniffed her. When he got a good sniff of her scent, he realized who she was, and his reaction was priceless! Murphy is overjoyed to the point of being unable to contain himself.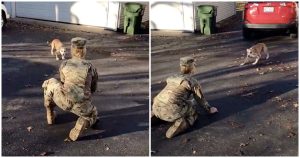 As seen in the video, the dog is simply running around and leaping on his mother. Murphy clearly missed his mother as much as she did him.
Video:
You may have seen plenty of these reunions shared on social media, and it just melts your heart each time.