Camera Catches Sweet Pittie Girl Jumping Over Kennel Wall To Hang Out With Her Friend.
|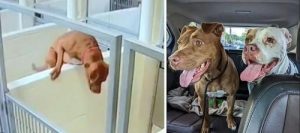 Dogs have best friends just like people do, and it's not a good idea to keep two besties separated for too long.
The two pit bull girls had formed a friendship and were discovered exploring the streets of Minneapolis together. After rescue the two canines, Minneapolis Animal Care & Control offered them a temporary home.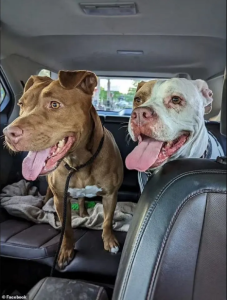 The MACC workers, unaware of the close bond between the two, placed the Pittie females in separate kennels next to one another. Brenda, on the other hand, was not pleased with the arrangement!She chose to jump a five-foot cement wall despite all odds in order to be close her next-door neighbor.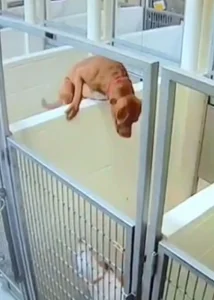 Unaware of the specific events that had occurred, the MACC volunteers discovered Brenda in Linda's kennel when they arrived at work the following morning! Upon examining the security tape, they discovered that Brenda had jumped the wall to spend time with her friend from the shelter! The MACC's Danielle Joerge reports that everyone was taken aback by Brenda's endearing behavior, as she refused to spend even a moment apart from her street companion.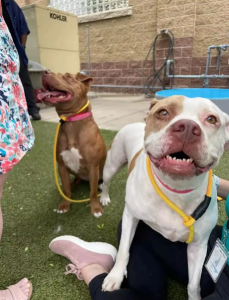 The Pitties were eventually moved to a larger kennel by shelter personnel so they could live together forever. After some time, they made the security tape available to their supporters, eliciting hundreds of heartfelt replies from throughout the country.
They had no idea how many people would be interested in adopting these two girls after the video was published! They didn't want Linda and Brenda to be separated again, so the only stipulation was that they adopt them both together.
Following a comprehensive screening process, Kathy Walker and her husband adopted these Pittie girls and placed them in a forever home just one day after the film was posted!Brenda and Linda are content to spend every moment with each other now that they have new pawrents. They've waited a long time for this, and now they have it all—a wonderful environment where they can be themselves!
Kathy responded to a query regarding whether she was concerned that Brenda might begin jumping fences by saying:
She won't become one of those escape artists, in my opinion, because she's fine as long as she sees Linda!"
Video:
The shelter shared the adoption update with its Facebook followers.
"Thank you for Linda and Brenda's new parents for stopping by to adopt these sweet girls and to the other people in line who also wanted to adopt them today," Friends of Minneapolis Animal Care and Control wrote in the update.