BABY DEER REFUSES TO GO AWAY FROM THE MAN WHO SAVED HER LIFE.
|
When a man stepped in to save a fawn from being eaten by predators – he didn't realise the special bond that would soon form between them!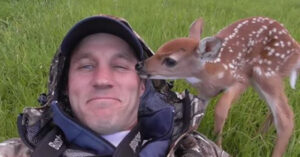 Baby "D.E.ER" believes that his father is the man who saved his life.
Lithuanian hunter and angler Darius Sasnauskas saw two newborn deer in his garden not far from Yellowstone National Park in the United States.
Unfortunately, one of them became wounded, and her family gave up on her since she couldn't keep up. He chooses to bring her home because it is clear that she has little chance of surviving on her own.
It was now time to release the baby deer because she had regained her health. But because of how strongly they were connected, she kept returning to Darius.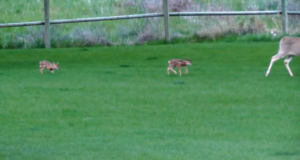 THE DEER WAS CAREFULLY CARED FOR, AND SHE IS NOW IN GOOD HEALTH.
Darius fed the fawn every four hours as his dog continuously kissed its face.
Darius said he opposed the keeping of wild animals as pets.
But this was a unique circumstance. She had little hope of surviving on her alone with all the predators nearby, according to Darius.
She follows me and is accustomed to me…
however, no one can replace her true mother.
Darius tried to release her into the wild several times, but she constantly returned to him.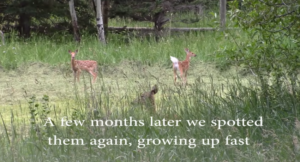 Finally, the mother deer appeared one evening, and the young deer was reunited with her family; Darius observed her again a few months later, growing up quickly and living life to the fullest.
Watch the full story here:
Animals are said to be clever and appreciative. ❤