Bucking Horse Family Performing At The ROdeo Show.
|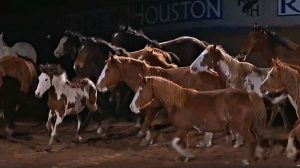 The Rodeo Houston show it has pleasure, reining, jumping, dressage, racing. and just about anything else. You can ascertain that this is rodeo is absolutely organized.
It's very clear in the way the horses gracefully
respond. We are used to seeing only geldings as
broncs but mares can also be very good at this kind of discipline. One of them is Hostage, identified amongst the most popular bucking horses in the world.
She is known worldwide and has won many
competitions including her triumph at the National Finals and Rodeo Houston. Sadly, now Hostage is retired but the good news is that her legacy is continuing the good family name among the best horses! Her family took over the Rodeo Houston Show and you can witness this beautiful moment in the video shown below.
You will see the 12-years-old Hostage Negotiator, a charismatic athlete just like her mother and the 7- year-old Hostage Taker who has played in the past two years. The most exceptional appearance, of course, it was by the youngest member of the family, a colt named Painted Hostage.
The video below shows us the magnificent
spectacle that these horses managed to deliver. The dedication that their owners have shown by taking such amazing care and preparing them so well, should be applauded by all. We are grateful for horse owners like them.
Video: