BIKER SEES MAN BEATING DOG ON HIGHWAY SO HE RESCUES THE CANINE AND MAKES HIM HIS NEW CO-PILOT.
|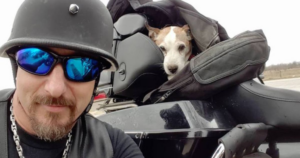 When he saw what was going on, he knew he had to step in. On Valentine's Day, biker Brandon Turnbow demonstrated his heartfelt love by stopping everything to save a little dog who was being abused.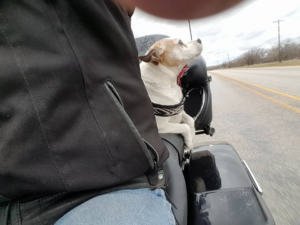 Turnbow was riding his motorcycle down Highway 171 in Texas, and he was planning to meet his dad for a day of bike riding. Turnbow was driving down the highway when he noticed a cruel man beating up a small Jack Russell.Turnbow was stunned, and he quickly decided to tell the guy what he thought.But before he could respond, the man threw the dog to the curb and drove away.

Turnbow knew he couldn't just leave the little dog alone because he was hurt and scared.Turnbow approached the shivering dog slowly.
"I take a chance and just fold my body over him to see if he will bite or trust me," Turnbow wrote on Facebook. "He then just lays his body into me shaking so I just stand up with him in my arms and sit him on the bike seat. I was thinking now what?"
Turnbow knew he had to move quickly, but he didn't want to scare the dog even more. So, before resuming his journey, he turned on the motorcycle to help the pup adjust to the vibrations.Turnbow placed the small Jack Russell in his bag once the dog appeared to be at ease.
He fell in love the moment he saw the dog's big eyes staring at him."I watched in my rear view and saw this guy throw the dog into the air curbside and drive off."I chased him down just to give him the number one sign," Brandon explained on Facebook."And I now have a copilot — please welcome Mr. DAVIDSON."
Turnbow named the dog Mr. Davidson after his Harley-Davidson motorcycle, and he took the pup home with him that day. Luckily, Mr. Davidson loved riding Turnbow's motorcycle with him !
"I try to look back as much as possible to see if the dog was trying to move around or not, and surprisingly, he liked riding….So we had about 45 miles to ride back to my house, and Mr Davidson was overjoyed!I think he was irritated at times because I was blocking his wind!"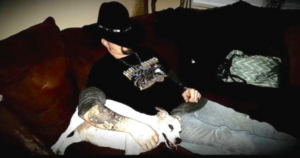 The 10-year-old dog quickly adjusted to his new surroundings and fell in love with his new father. Turnbow loved Mr. Davidson just as much at the dog loved him. He even wrote a sweet song about the pup.
Video:
Turnbow was thankfully in the right place at the right time, and because of that, he was able to rescue this little dog who had no one else in the world.