Behind The Scenes Of The Legendary Budweiser Clydesdale Commercial.
|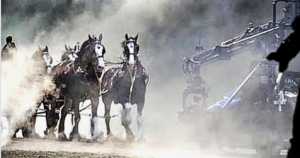 Even if you are not an equestrian, you most likely have heard about the iconic Budweiser Clydesdale.
The Budweiser Clydesdale's are mostly identified with their amazing commercials and breathtaking appearance when taking center stage at events in various countries. Television publicity starring the Budweiser Clydesdales have a long history in Super Bowl tradition, which all started with an ad during Super Bowl XX in 1986.
In the video below we decided to bring you an
exclusive look behind the scenes of yet another
awesome Super Bowl Commercial they were
shooting in 2016. Keep watching it to see how much work they put in such a wonderful commercial and how they take care of even the tiniest details.
No wonder all their commercials are so
professionally made because as we can see from the video, nothing is left in the hands of fate and everything is super organized.
Video: