Horse Who Spent 17 Years Of Her Life Alone, Makes A Friend In Her Last Year.
|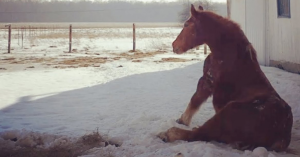 Gidget endured a loneliness no horse (or animal) should have had to endure. The Suffolk Punch mare spent 17 years living in the basement of a barn by herself. She hadn't seen people or other horses for at least 10 years. Her elderly owner would dump oats down a feeding chute into her feed bin to get her food. After so many years living like that word got to Mockingbird Farm Sanctuary.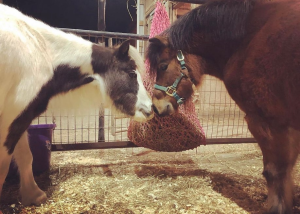 Gidget spent her year at Mockingbird Farm Sanctuary surrounded by love and enjoying the company of her best friend. When Gidget passed away it deeply affected Peggy. She stood in front of Gidgets halter. Refused to leave it longing for her dear friend to emerge from their stall.
Peggy fell into a deep grief. Mockingbird Farm Sanctuary revealed that it was "5 years ago, Peggy's best friend in the whole world passed away in the early hours of Easter Sunday.
Within 2 weeks of losing Gidget, Peg foundered. She became deeply depressed and her body riddled with inflammation. Suddenly, she couldn't walk. She has struggled with bouts of laminitis ever since."
The farm introduced her to a pair of donkeys they rescued and Peggy tried very hard to befriend them, but it wasn't happening. But there was someone waiting for her. A couple of years later, the sanctuary took in Bourbon, another mini horse.
Peggy and Bourbon have become friends, enriching each other's lives.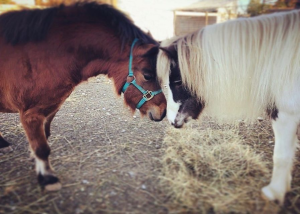 Unfortunately Peggys health is not, in the condition. Mockingbird Farm Sanctuary shared on their Facebook page that laminitis is an incredibly painful condition.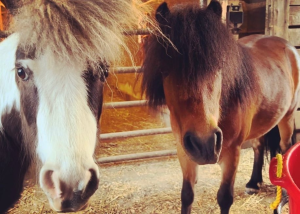 They explained, "We meticulously manage every aspect of her diet, hoof care, bedding and medication; however laminitis will never completely go away for her (she has also been diagnosed with equine metabolic syndrome/insulin resistance and Cushings disease).
Video:
It is nice to occasionally have some time to yourself so you can sit and reflect, but that is only something you should do temporarily. All of us need companionship, and that is something that is also true of animals.