THE 'OVERDRAMATIC AND TICKLISH' HORSE HAS COMPLETELY DELIGHTED THE INTERNET.
|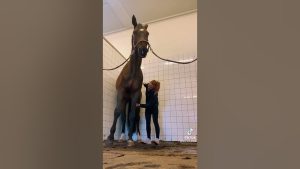 It's no secret that humans can be ticklish. Some are so ticklish that they can't even be touched without laughing or freaking out. (That's us!) We also know that dogs can be ticklish too, but that's about all the animals we could think of. Well, until now!
@mr_roxy_ of TikTok recently uploaded a video of a woman cleaning her horse. @mickiemitch initially shared the video, which has approximately 40 million views. This horse's reaction is out of this world, and we can't get enough of it. Turn it up!
Video:
We couldn't help but smile when we saw this. The horse's squealing was his way of laughing and expressing, "Hey, that tickles!" But something tells us the horse didn't mind, especially because he got additional kisses.
We're not the only ones who didn't realize horses could be ticklish. "I've never heard of or seen a ticklish horse!" "Wow!" exclaimed @tessharry1. SAME! To say we're obsessed is the understatement of the year. "I've never heard a horse make noises like this," @ashleynicolefloyd1 commented. "How adorable!" It's now our new favorite sound! We're curious if all horses are ticklish.
Also te read: Girl pretends to cry, horse's remarkable RESPONSE melts millions of hearts