A GIANT TIMBER WOLF PLAYS WITH A WILDLIFE WORKER IN ADORABLE FOOTAGE
|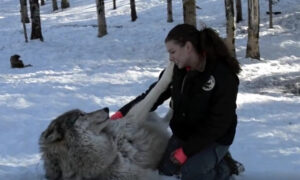 Despite their beauty and majesty, wolves are still wild monsters, and being in their company is the last thing you want to do. But not for this woman, who enjoys playing with a massive timber wolf.
Daniella is a ranger at the Colorado Wolf and Wildlife Center. She adores wolves, but she has a particular fondness for one of them, Kekoa, an 8-year-old wolf.
When they get together, they act like toddlers (which is every day). They can't seem to stop embracing and kissing each other.
According to the conservation center, Daniella and Kekoa are having a great time playing in the snow. Needless to say, our hearts warmed instantly !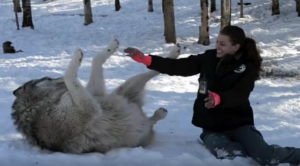 "I've always had a fascination with nature and animals," Daniella adds. «These wolves have my heart, and I'm honored to be a part of their pack!»
Kekoa, whose Native American name means "brave," came to Colorado from the Seacrest Wolf Sanctuary in Florida. Sakara, his sister, brought him.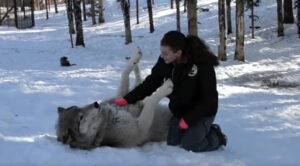 A handsome young wolf with a gentle disposition,» as his center's website describes, the majestic wolf weighs 115 pounds. Despite his size, Kekoa is very sweet and friendly, and «he loves to greet visitors with wolf kisses.