A DOG AND A BABY BUNNY RABBIT HAVE A CUTE MEETING
|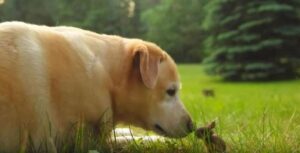 When Meg, a Yellow Labrador Retriever, encounters a wild baby rabbit, what happens? In this very lovely video, you're going to discover out. When Meg comes across a little newborn rabbit, the bunny falls head over heels in love with her. It's no surprise that the video's uploader, David Jackson, named it "Are You My Mother?" after the iconic children's book.
Meg is gentle with the infant, although she appears to be unsure of how to act around the child at first. She stays her distance and gives it a sniff, but she is really careful with her new pet.
Share this cute video with your friends and family!
Video: