Baby Monkey Takes Care Of Five Ducklings As If They Were His Family.
|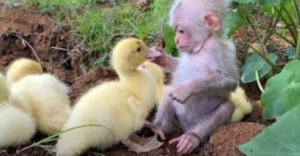 The bonds that form between animals belonging to different species are one of the most beautiful things one could ever witness, especially in the case of baby animals. The level of adorableness in this story is very high because it includes a baby monkey and ducklings. This baby monkey and his ducking family of five are winning over the hearts of everyone. They were captured on video, spending some quality time together, and trust me when I say it is the cutest thing you'll come across.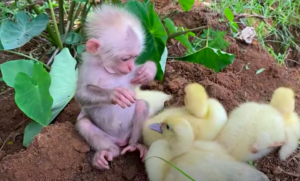 This precious eight-minute film was filmed almost a year ago and has already garnered over 80 million views. But it only takes a few seconds to fall in love with it. Watching a baby monkey take care of five ducklings as if they were his little brothers will surely bring a big smile and a twinkle in your heart.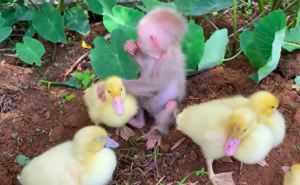 It is unknown how the ducklings and their companion got together, but it is clear that there is some connection between them. While the baby ducklings surround the baby monkey as if he was their mother, the baby monkey is constantly trying to hug his smaller friends.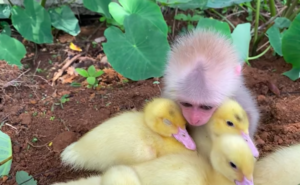 But after a little chase, everyone became hungry. Of course they eat together. While the cute ducklings serve the rice, the monkey eats nutritious bottle of milk. You can expect them to rest a little after such a meal, but it is not. The game continues.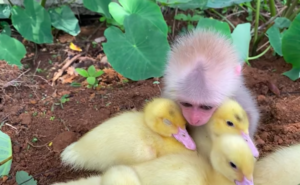 The ducklings follow the monkey everywhere he goes, except when he climbs onto trees. Things get complicated when he sees the ducklings at the bottom of the tree. It makes the baby monkey wonder why his tiny friends aren't following him. Aren't they such cuties ?
Video: