7 Amazing Facts You Might Not Know About Secretariat
|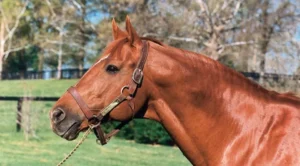 Secretariat is known as one of the greatest racehorses ever. Born on March 30, 1970, Secretariat won the 1973 Triple Crown, becoming the first winner of the coveted title in 25 years.
Commonly known as 'Big Red', after setting records in all three races of the Triple Crown, Secretariat soon became a celebrity.
1- Secretariat set records that are still standing today.
As the 1973 Derby began, Secretariat broke out of the gate last, before quickly moving up on the field. Accelerating with each quarter-mile segment, he crossed the finish line at 1:59 2/5th, a new (and still standing) course record. In the 40 years since, only one other horse, Monarchos, has finished in under 2 minutes. Two weeks later at the Preakness he once again raced to catch up with the rest of the field before winning easily. Though his victory was never in doubt, his official time remained a point of controversy for almost 40 years. Members of the Daily Racing Form had clocked him at 1:53 2/5th, a new track record, while officials at Pimlico posted his official time as 1:54 2/5th. It wasn't until June 2012 that the Maryland Racing Commission, using a forensic review of the race, determined that not only had Secretariat set a course record in 1973, he had been even faster than previously believed—1:53 flat.
2- Secretariat's Owner Was a Woman
At the time Secretariat won the Triple Crown, the racing industry was still heavily dominated by men. However, his owner was a woman called Penny Chenery.
In 1968, Chenery's father fell ill and she took over his stable, Meadow Stud in Doswell, Virginia. Her siblings urged her to sell the farm, but she wanted to keep it running.
To keep the stable profitable, Chenery decided to breed. This led to her breeding the stable's mare Somethingroyal, to stud Bold Ruler, resulting in the birth of Secretariat.
In January 1972, Secretariat was sent to Lucien Laurin's winter stable for training. The chestnut colt gained a reputation for being a kind, likable horse. Though at first he wasn't impressive, he made steady improvements throughout the spring.
Chenery believed that her big chestnut Thoroughbred had what it took to be a racehorse. Despite his rough beginning on the race track, she had faith in him and he soon proved to be an incredible athlete.
3- He exhibited equine physical perfection.
Secretariat was a fantastic racehorse mostly because his physical attributes were off the charts. Even in the early days of his life, Secretariat exhibited signs of greatness. Later, he became incredibly well-balanced, and his chest became so large that it required a custom-made girth.
Some trainers even went so far as to call him the "perfect horse." He truly exhibited equine physical perfection, and it showed in his amazing racing prowess. Apart from his large chest, he also had well-muscled hindquarters. He had no major conformation flaws.
As a two-year-old horse, he was perfectly suited for racing, and by the time he was three, his gait smoothened out as his body matured further. The secret behind Secretariat's speed and endurance had everything to do with his powerful hindquarters. To be more specific, his hind legs were able to reach far under himself, thus increasing his drive.
4- How Tall Was Secretariat ?
Secretariat was 16.2 hands tall and weighed 1,175 pounds. He was well-balanced, with powerful hindquarters and a large chest.
5- Secretariat Holds the Fastest Time in the Kentucky Derby
Secretariat is most well-known for his incredible performances in the 1973 Kentucky Derby, Preakness, and Belmont. Not only did he win all three of these races to become the Triple Crown champion, but he did it all in record times.
6- How Did Secretariat Die ?
Secretariat was euthanized at the age of 19 due to laminitis. After a month of treatment, his condition did not improve and the tough choice to put him down was made.
The famous chestnut Thoroughbred is buried at Claiborne Farm in Paris, Kentucky. Unlike most racehorses, where only the head, heart, and hooves are buried, Secretariat was given the honor of being buried in full.
7- Who Was Secretariat's Jockey ?
For the first two races of his career, Secretariat was ridden by jockey Paul Feliciano. Feliciano was then replaced by jockey Ron Turcotte.
Turcotte was Secretariat's jockey for the rest of his career and led the bold chestnut to his phenomenal Triple Crown win. Unfortunately, in 1978, Turcotte was left paralyzed from the waist down after a racing accident.